SomnoClinic® uses the latest methods to control your sleep.
The WatchPAT is a unique method that allows you to monitor your sleep at home. After a night of sleep with the WatchPAT you will get a complete report with a clear indication of whether there is a possibility of apnea. With this report you can then go to your GP or ENT for further research. This sleep check is also suitable as a second opinion.
During your free initial consultation, our experts will examine whether a sleep check is necessary.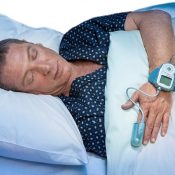 SomnoClinic® has developed a free online test that will allow you to determine how big your snoring or apnea problem is and how to remedy it.